Meet The Alto Health Care Staffing Team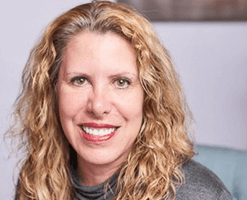 Leslie Kahn
President Of Alto Health Care Staffing
After several years of practicing nursing hands-on care in multiple areas from pediatrics, geriatrics, case management, rehab and med surg, she decided to return to school and obtain a BS in Business Management. She wanted to utilize both degrees in her pursuit of a new career which led her to the opportunity to work for a national staffing firm as a recruiter and account manager. She loved it! However, she realized that there was something missing in the industry and she knew that she could make a difference in the lives of others. She decided to start her own staffing company and conduct her business practices that are in line with her own personal values and mission. Alto Health Care Staffing strives to serve the piece of the equation that we perceive is missing. She realized that for years she has been a patient advocate, but who was the nurses' advocate? We are! Alto Health Care Staffing is your advocate.
She makes a promise to live by her mission statement and to truly listen to your career goals and desires, work hard on your behalf for your ideal position and never misrepresent you to a client or a client to you. We hope to have the opportunity to partner with you as your career advocate soon.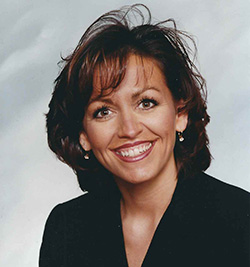 Cindy Hochwalt
Vice President of Clinical Temp & Medical Business Operations
Cindy leads the largest team at Alto Health Care Staffing with her smile and a wealth of experience in leadership and knowledge in the health care staffing arena. Cindy makes sure that operations run smoothly with all of our employees and clients on a daily basis and that everyone has fun! Cindy began her career in the Staffing & Recruiting Industry in 1989, holding several positions including Staffing Specialists and Recruiter with a National company and then went on to become President/Owner of her own start up staffing agency for several years. Cindy has also served in the roles as Director & Market Manager with other staffing firms in the past.
Cindy currently sits on the Board of Directors for the Ohio Staffing & Search Association, as V.P. of Business Partners. She attended Cleveland State University, studying Marketing.
In her spare time, it's Cleveland Sports and The Ohio State Buckeyes! Cindy believes in paying it forward, and does so every week.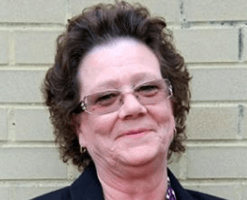 Ellen Linville
Senior Career Advocate
Ellen Linville was born and raised in Cincinnati. She started her career in medical billing and stayed in that field for several years, by working in a physician practice doing medical billing and front desk duties. That position led to recruiting and staffing for a Home Health agency where she ultimately moved to a large national company doing strictly recruiting, staffing and account management which she has been doing since 2000. She enjoys assisting clinicians in supplementing their income or landing the ideal position. She also enjoys gardening, photography, Cincinnati Reds and the Bengals.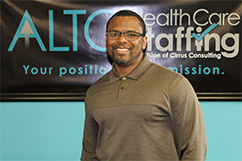 Jerry Ligon
Senior Career Advocate
Jerry's focus as a Senior Career Advocate is to work directly with clients and candidates with an end goal of matching talented medical professionals with clients that have specific needs within a temporary, contract to hire or direct hire positions. He will also manage these relationships to ensure continued satisfaction and success for both parties. Jerry is a graduate of Urbana University. He brings with his background a wealth of experience in recruiting, customer service, sales and marketing. He has recruited and placed top talent in all 3 major industries: Health Care, Technology, and Accounting and Finance. Jerry also has extensive sales and medical experience as a former pharmaceutical representative during which time he worked directly with doctors and their entire staff.
Jerry understands the value and importance of making the right match for both candidate and client. He is motivated by pairing candidates with clients that lead to career and company growth and long-term relationships.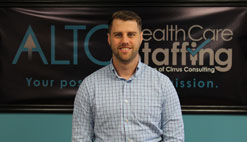 Eric Dixon
Business Development Manager
A graduate of Cleveland, Tennessee's Lee University, Eric attained his B.S. in Health Science and Business. Before attending Lee University, Eric attended Cleveland State CC where he played basketball and was named to the Athletic Academic All-American team his Freshman year. After working for a marketing company in the health and fitness industry in Tennessee, Eric moved to Ohio to pursue a career in the Healthcare Staffing field. With over six years of experience working in the Healthcare arena, Eric is now an Account Executive for Alto Health Care Staffing. His main area of focus is new business development within Dayton and surrounding areas, and marketing. In his free time, Eric enjoys spending time with his family, playing or watching sports and doing anything outdoors.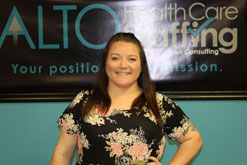 Jessica Blake
Client Service Manager
After serving as a scheduling coordinator and an Account Manager Jessica was promoted to Client Services Manager. Her passion is to serve our clients and employees to her fullest ability, while showing them how vital they truly are to Alto. Jessica has been in the healthcare field for eight years, working at a rehab and a long-term care facility as an STNA. In her spare time, she enjoys being outdoors, spending time with her family and she currently holds her cosmetology license.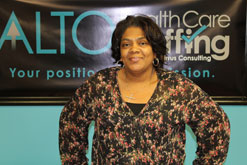 Lanae Wills
Account Manager
LaNae began her career with Alto Staffing as a Compliance Coordinator in June 2017. She recently transitioned into the role as a Scheduling Coordinator exclusively for a large local facility. She is a Licensed Practical Nurse and is planning on returning to school to become a Registered Nurse. Outside of work, LaNae enjoys spending time with her family and friends. She is a mother of two; Brian and JeNae and a grandmother of two; Shaylen and Brian.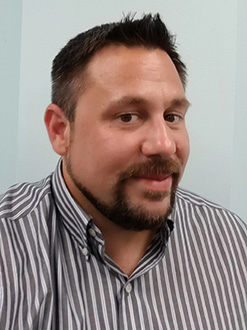 In Memoriam: Matt Brown
Travel Division Manager
Matt Brown came to Alto Staffing with 11 years of travel nursing account management experience. He attended Cincinnati School of Practical Nursing and Kettering College of Medical Arts. He started in the health care staffing industry in 2000 and owned a small per diem company in Cincinnati. In 2006, Matt was introduced to travel nursing and became an account manager. He has placed thousands of nurses nationwide and enjoys talking to new people, building strong, mutually beneficial relationships with his clients and nurses.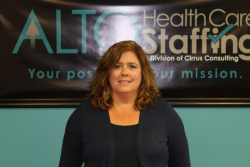 Tracey Logan
Senior Career Advocate
Tracey Logan studied Business Management at Clark State University and was in a variety of roles including sales and management before she began in recruiting. She is a Travel Nurse Senior Career Advocate. She comes to Alto Staffing with 11 years of recruiting experience in manufacturing, IT, engineer and nursing verticals.
She works with nurses all over the country and considers it her passion to help a candidate find the best opportunity at the best rate. It is fulfilling to be a part of a positive change in someone's life.
When she isn't at work she enjoys spending time with her two daughters as well as family and friends. She is a mentor for Big Brother/Big Sisters for an 11 year old girl and she teaches 10th grade religion classes at her church. Tracey also enjoys swimming, hiking and gardening.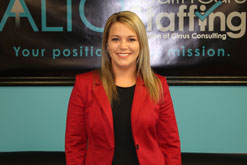 Bethany Fly
Account Manager
Bethany began her career with Alto as a Staffing Coordinator in 2018, she then transitioned into a career advocate focused on recruiting, next she moved into the Account Manager Role. She has been in the medical field for 10 years with experience in the field as a STNA, scheduling in a nursing home and administrative work in Home Care. Her goal is to find her clients the staff who best fit the culture of each facility, while still being the advocate of our field staff and the clients. "Being on both sides of the fence has helped me become more understanding and compassionate when meeting the needs of our staff and clients. I am always thrilled to present opportunities for experience that candidates have always wished to have!" She enjoys spending time with her 2 daughters & family, coaching her daughters cheer squad, being outdoors, playing cards and taking trips to the beach!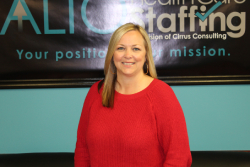 Erika Schermer
Assistant Director of the Travel Division
Erika has been in the industry for 6 years. She started as a recruiter, moved into the Account Management role and was recently promoted to the Assistant Director of Travel. She is passionate about her job and feels that her experience on the nurse and client side has given her a wealth of knowledge about the industry. She always has a positive outlook and is a firm believer in the glass always being half full! She studied Business Management at Miami University and achieved her degree as a full time working mom.
Erika has two beautiful daughters, Taylor and Avery. When not at work you can find Erika at the soccer fields watching Avery or up at Bowling Green State University visiting Taylor. Erika LOVES the Cleveland Browns, March Madness, and playing sand volleyball.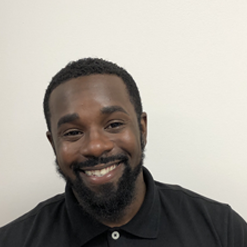 Joshua Dailey
Senior Career Advocate
Joshua Dailey, has been recruiting since 2008, and has a degree in Human Resources and Organizational Leadership from The University of Cincinnati. Joshua enjoys the challenge of "finding the needle in a haystack" for his clients. Even with all of the modern technology available, Joshua loves face to face interactions, and utilizing the phone to seek and find those special candidates.
With over 10 years experience in multiple levels of recruiting, Joshua's focus as a career advocate is to invest, create opportunities, and build quality relationships, with both clients and candidates because Joshua knows that relationships matter. And quality matters over quantity.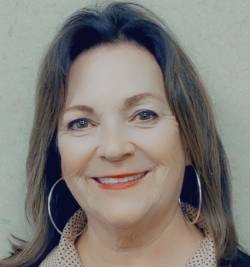 Charlotte Yenney
Director of Travel
Charlotte has joined us as the Travel Division Manager. Charlotte brings two decades of experience in the Healthcare Staffing Industry. Charlotte's knowledge in the health care as a former Respiratory Therapist and working in multiple roles within Healthcare Travel Staffing Industry has given her first hand experience to meet her Client's needs.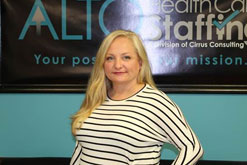 Stephanie Moore
Travel Nurse Recruiter
Stephanie Moore studied Organizational Leadership at Wright State University and has held several management roles in various industries before she discovered her passion for recruiting. Stephanie is a Travel Nurse Recruiter and very excited to help candidates find their most ideal assignments. Stephanie was born and raised in the Dayton, Ohio area and recently moved home from Nashville, Tennessee. In her spare time, Stephanie enjoys spending time with her family and friends, spending time in the outdoors and engaging in new adventures.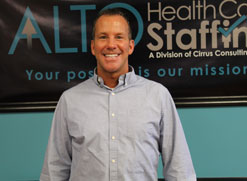 Dwayne Melton
Recruitment Manager
Dwayne Melton is the Recruitment Manager for the Travel Division. Dwayne has over 15 years of Travel Nurse staffing experience. He is an established recruiting manager that is honest and takes pride in his work. He excels and thrives in all aspects of Healthcare Staffing. Dwayne has an extensive experience & knowledge dealing with contracts, salaries, retention, recruiting training and management. He has earned a proven reputation developing professional relationships and connections lasting a lifetime. In his spare time he enjoys the outdoors and spending time with family and friends.