How to Nail the 10 Minute Phone Interview
SMILE
When you answer the phone and throughout the conversation, smile as much as possible. Believe it or not, even though the manager cannot see your smile, it will come through in your voice. No manager wants a grumpy travel nurse, so stay as happy and upbeat as possible throughout the entire interview.​ Say the Manager's name, it is human nature, people like to hear their name. Try to say the manager's name at least 3 times during the conversation. Say the manager's name once as soon as possible, once during the middle of the interview and one more time at the conclusion of the interview. ​
Example
You: Hello, This is Cindy
Manager: Hi, this is Debbie calling from St. John's hospital.
You: Hi Debbie, thank you so much for calling! I have been hoping to hear from you.
​Focus On The Hospital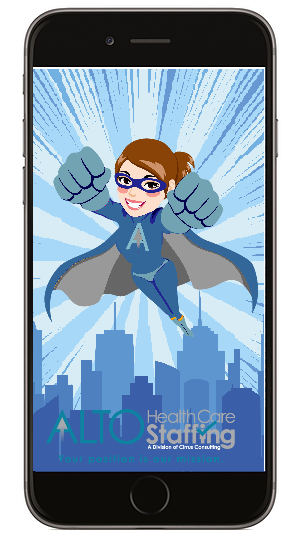 If the manager asks you why you want to be considered for a travel assignment at their hospital, make your main reason about the hospital. Do not tell them that you want to be in Miami because the beach is amazing and you love the sunshine. Managers want to avoid the travel nurses that are traveling because they want a paid vacation. When you submit your profile to a hospital, do your research so you can back up your statements. Learn as much as possible about what they do and specifically the unit that you are being considered for.
​Answer the Phone No Matter What
Unit Managers and Directors need travel nurses because they are short staffed. When a unit is short staffed, everyone is very busy. If you do not answer the phone, there may be a chance that you will not be able to reach them when you call back. Many times the managers are working the floor and just pop into their office for a few minutes. Don't take the chance. If they are calling at a bad time, just explain to them what is going on and that you decided to answer because you really want the assignment. They will understand. If you work nights and they call when you are sleeping, still answer the call. Just explain to them that you worked last night and that you slept next to the phone in case they called. Let them know that you normally do not sound sluggish and that you are so glad that their call woke you up.
Example
You: Hello, This is Cindy
Manager: Hi, this is Debbie calling from St. John's hospital.
You: Hi Debbie, I'm so glad that you called. If I sound a little sluggish, please excuse me. I worked last night, but I slept next to the phone in case you called. I'm so glad that I heard it ring and didn't miss your call.
​Do not ask for time off unless it is mandatory
Managers want flexible travel nurses to fill the holes in their schedule when needed. They will more than likely pass on a candidate that has special scheduling requests or a request for time off. If you need a couple days off during the contract but it is not mandatory and not a deal breaker, don't even bring it up. Try to work it out once you get there and have time to make a good impression and impress. Chances are, they will work with you. Just be prepared to work and don't get upset if they are not able to accommodate your request.​
Be Confident When Answering Clinical Questions
Be honest and confident in your skills. Many nurses underestimate their skill level when they do their skills checklist. Never tell a manager you are proficient with a particular skill if you are not. Just make sure that you don't sell yourself short. If you are a CVICU nurse but have limited experience with balloon pumps, let the manager know that if she asks. Let the manager know that you have had little experience with them, but you would love the opportunity to learn more. Let her know that you would be thrilled to be given the opportunity to work with a skilled staff and improve your balloon pump skills. This is also a great time to let the manager know you are willing to stay with them longer than 13 weeks, if that's the case. A manager is more likely to take on a travel nurse that doesn't quite have the exact skills she is looking for if you are eager to learn and stay with them longer than 13 weeks.​
Strong Closing
At the conclusion of the interview, sell yourself! Let the manager know why you are the best choice for the job and that you are ready to accept an offer immediately if one is made.
​Example
Manager: Okay, I think I have asked you everything I need to know. I have a few more candidates to call. I should be making a decision soon. Do you have any questions for me?
You: I can't think of any questions right now, Debbie but is it okay if I call you back if I think of something? (This will also give you a reason to call back and follow up) I'm so glad that I had this opportunity to speak with you and hope that you decide to make an offer for me to work at St. John's. It sounds like an excellent fit for me. I want you to know that I am very flexible with scheduling and will hit the ground running. I selected travel nursing because I am eager to learn and enjoy new experiences and meeting new people.